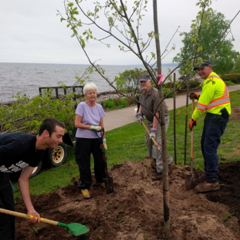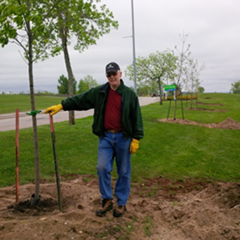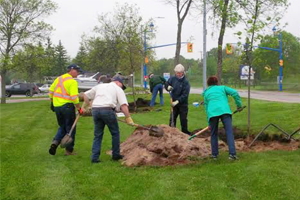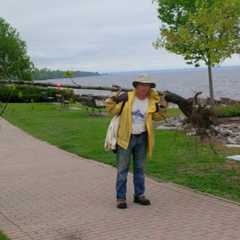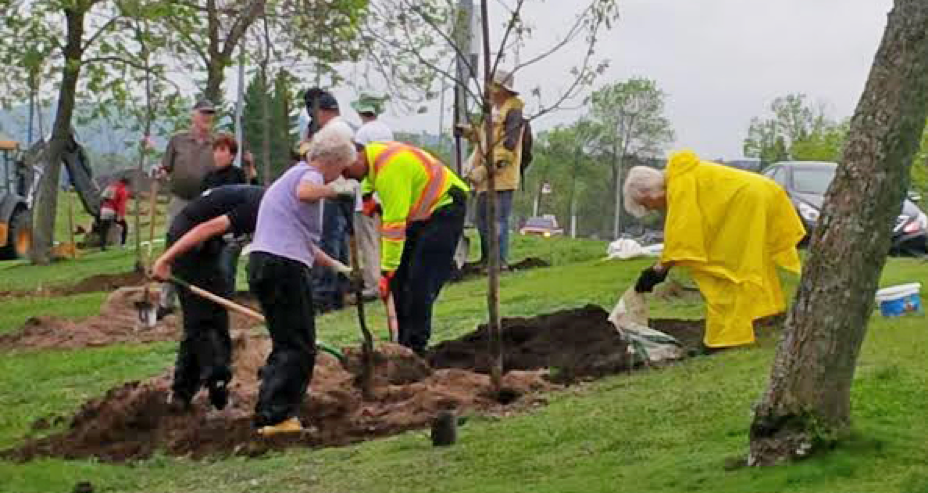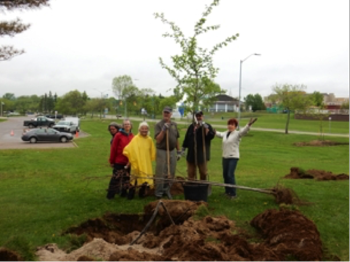 Red Maple (18)
Silver Maple (20)
Blue Beech (15)
Hackberry (15)
Ironwood (4)
White Spruce (3)
White Pine (4)
Bur Oak (4)
Red Oak (53)
Linden (4)
From Ashes to Oaks Project
Approximately 20 volunteers turned out to help plant 140 trees along the North Bay Waterfront on May 30, 2015.The project was intended to replace 40 green ash trees with 40 trees of different species [listed on the left] which will be unaffected by Emerald Ash Borer. Due to a special deal with a local supplier, the project was able to acquire 100 more trees for the same price as the project funding of $8,000 for 40 trees.
The Nipissing Botanical Gardens in partnership with the Greater Nipissing Stewardship Council are aiming to get a healthy tree population on the popular waterfront.
Peggy Walsh Craig of Nipissing Botanical Gardens says a little pest has communities removing ash trees. "The green ash are threatened by the Emerald Ash Borer. Unfortunately when the waterfront was redeveloped, the main tree used was the green ash. In Toronto, they have spent millions of dollars removing green ash because of the Emerald Ash Borer. We haven't had a big problem with it yet, but we know it's in the area. So we're planning ahead."
The species of the new trees include red oak, linden, red maple, and ironwood. Walsh Craig informs that city crews will be planting red oaks in Lee Park in the upcoming week. The city may also be planting white pine and white spruce on the waterfront in the future.
"When we planted the last tree, we broke out into song. That's how fun tree planting can be. It's our gift to the community." The oaks are expected to live the longest, usually 150 years of providing oxygen, shade, animal homes, natural beauty and healthy chemistry.
TD Friends of the Environment funded the event after the Greater Nipissing Stewardship Council applied for a grant to fund the tree program.
The North Bay Mattawa Conservation Authority provided the staff's labour as well as equipment.The City of North Bay generously contributed by digging all the holes and storing the trees until planting.
The Greater Nipissing Stewardship Council aims to protect, conserve, improve and restore the natural resources and environment of the greater Nipissing area.