TO PROTECT, CONSERVE, IMPROVE AND RESTORE THE NATURAL
RESOURCES AND ENVIRONMENT OF THE GREATER NIPISSING AREA
ABOUT US
The Greater Nipissing area is blessed with an abundance of
Crown land that provides an excellent opportunity for many outdoor recreational
activities. To encourage and foster an understanding and awareness of the
natural resources and environment and their value in enhancing our quality of
life, by organizing conferences, seminars, public meetings and
distribution of information circulars on issues relating to the
environment and its management and protection.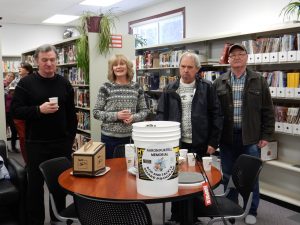 Bill Purtell, Laurie Purtell, Paul Perron and Tom McDowell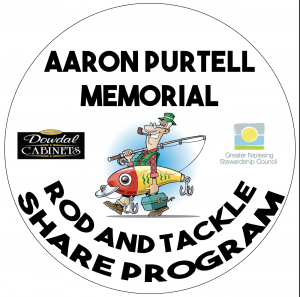 Aaron Purtell Memorial Rod & Tackle Share Program
January 31 2020
Supported by donations in memory of Aaron Purtell to the Greater Nipissing Stewardship Council, the Aaron Purtell Memorial Rod & Tackle Share Program gives new and young anglers the opportunity to go fishing at no cost.
There are many barriers to introducing new anglers to fishing on today's waters. This program will remove these barriers by providing the equipment and knowledge to get them started.
Rods and tackle are available to sign out for free from two library locations – the East Ferris Public Library, Astorville and the Bonfield Public Library.
Participating anglers simply sign out a rod and reel, as well as an assortment of tackle, in the same way that they would borrow library material. Equipment is available for a one-week period. 
Special thanks to Dowdal Cabinets North Bay for their generous donation of stands for the summer equipment.
As a rod and tackle share site, the libraries are not responsible for ensuring a borrower's licensing. For information on regulations, licensing, fishing with kids, and places to fish around Astorville and Bonfield please…read here.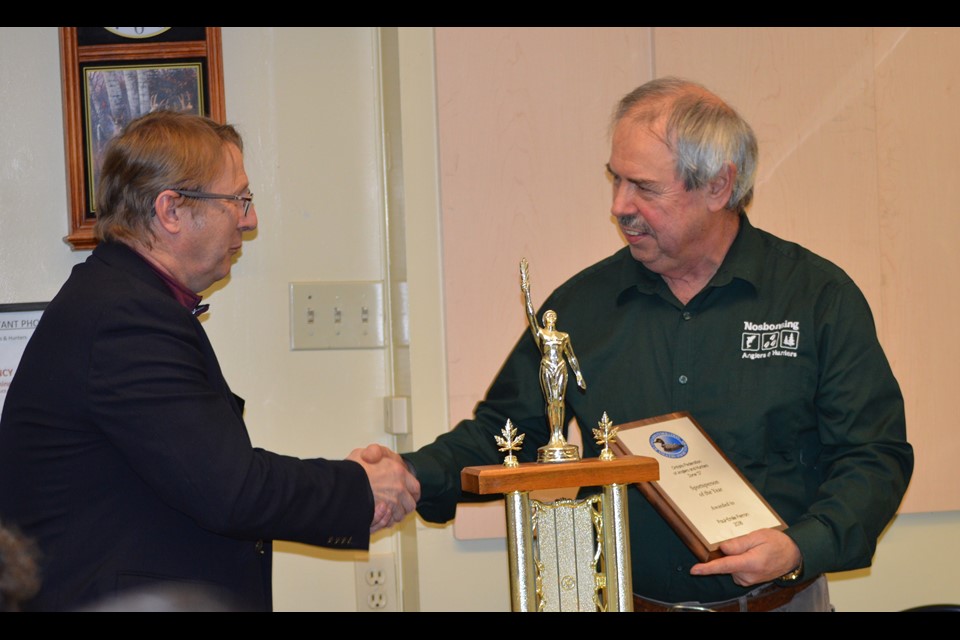 "Making a Difference" in the restoration and conservation of natural resources in the East Ferris area for over 35 years, Nosbonsing Anglers and Hunter's President Paul-Emile Perron (on the right) was presented with the Sportsperson of the Year Award, on January 30th from Ontario Federation of Anglers and Hunters (OFAH) – Zone D Vice Chair Gerry Geisler. Read more here.
Paul-Emile is also currently serving on the Board of Directors for the Stewardship Council.
BECOME A MEMBER, SUPPORTER OR VOLUNTEER!
MAKE A DONATION!
NORTH BAY REGIONAL SCIENCE FAIR AWARDS