TO PROTECT, CONSERVE, IMPROVE AND RESTORE THE NATURAL
RESOURCES AND ENVIRONMENT OF THE GREATER NIPISSING AREA
ABOUT US
The Greater Nipissing area is blessed with an abundance of
Crown land that provides an excellent opportunity for many outdoor recreational
activities. To encourage and foster an understanding and awareness of the
natural resources and environment and their value in enhancing our quality of
life, by organizing conferences, seminars, public meetings and
distribution of information circulars on issues relating to the
environment and its management and protection.
North Bay Regional Science Fair 2019
The 57th Annual North Bay Regional Science Fair (NBRSF) was a huge success for the more than 150 participants who took part in this year's competition held at Nipissing University Sports Complex. More than 50 awards including scholarships, trophies, medals, plaques, certificates, and cheques were presented for the scientific initiatives of these brilliant students.
The highlight of the Awards ceremony was the designation of those who will represent the region at this year's Canada-Wide Science Fair being held in Fredericton, NB. May 11 to 17. Three projects (five students) were selected for this exciting opportunity.
Congratulations to:
Alaina Parker, Parry Sound Public School, for her project "Oil Spills – How to Clean them Up" – recipient of the Greater Nipissing Stewardship Council Best Junior Project – Natural Resources & Environment Award.
Emily Mah and Jazlyn McGuinty,  Widdifield Secondary School for their project "Using Tannin-Embedded Biopolymers to Extract Heavy Metals from Contaminated Water" – recipient of the Greater Nipissing Stewardship Council Best Intermediate or Senior Project – Natural Resources & Environment Award. Emily and Jazlyn also won the TransCanada Award, J.M. Filion Environmental Award, and a gold medal in the Senior Earth and Science category. They are now heading to the Canada-Wide fair as part of Team North Bay!
FOR MORE ABOUT THE FAIR…Read here.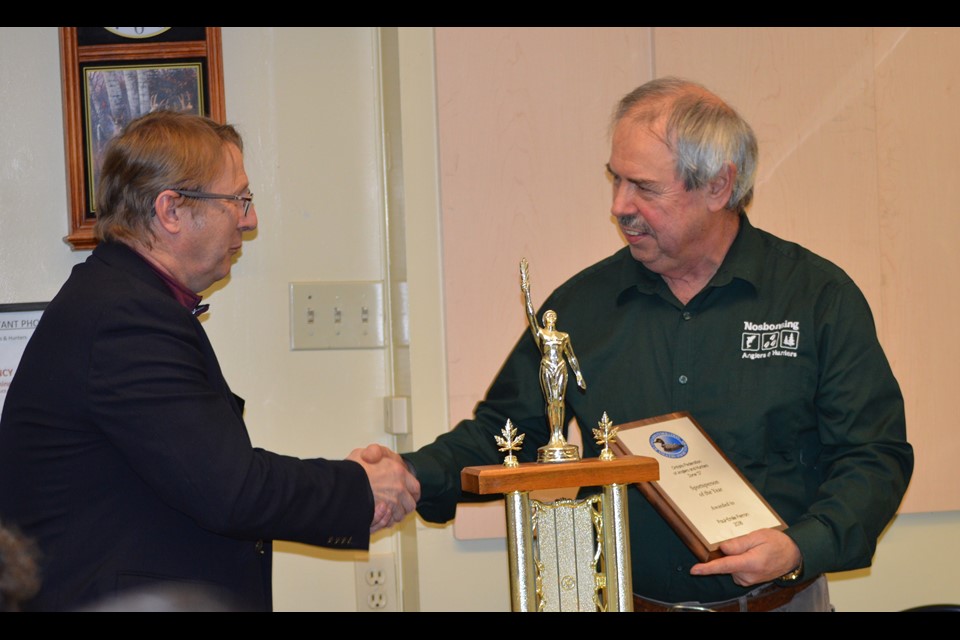 "Making a Difference" in the restoration and conservation of natural resources in the East Ferris area for over 35 years, Nosbonsing Anglers and Hunter's President Paul-Emile Perron (on the right) was presented with the Sportsperson of the Year Award, on January 30th from Ontario Federation of Anglers and Hunters (OFAH) – Zone D Vice Chair Gerry Geisler. Read more here.
Paul-Emile is also currently serving on the Board of Directors for the Stewardship Council.
BECOME A MEMBER, SUPPORTER OR VOLUNTEER!
MAKE A DONATION!
NORTH BAY REGIONAL SCIENCE FAIR AWARDS